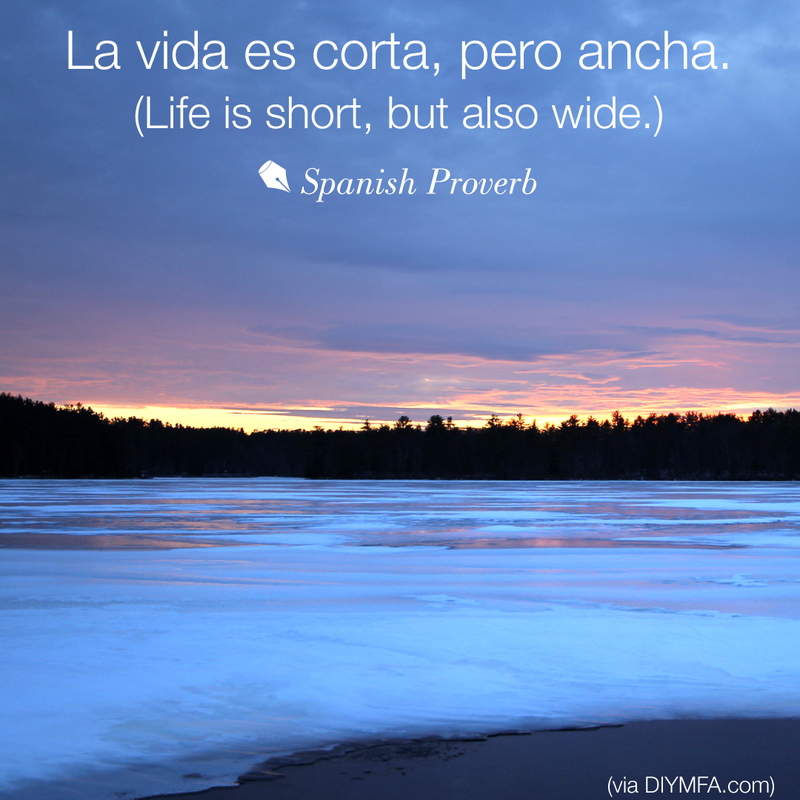 You know the saying… "The best-laid schemes o' mice an' men / Gang aft agley…" (Thank you, Robert Burns). It's our way of mourning the death of every New Year's resolution… If you're anything like me, you start out the year with the best intentions (#writeeverydamnday). You may have even had a plan for how you were going to accomplish your goals.
But what plan doesn't run into kinks? Sometimes the kinks are nothing more than the common cold or sleeping through your alarm a couple of times, but other times major life stuff comes up that you can't just get around dealing with. That's how life goes. We all know it's true. Having a plan for how you're going to accomplish your goals when everything is going smoothly is one thing. What's your plan for when everything "Gang aft agley"?
What Real Writers Do
If you're the kind of person who never makes a false move, you're probably not reading this blog, and obviously I'm not writing this post for you. Honestly, you're the person we all aspire to be… but you're also the person who makes the rest of us feel shitty when real life gets in our way. Why can't our lives go perfectly, too?
Lofty goals of writing  (Stephen King writes 2,000 words a day, "and only under dire circumstances do I allow myself to shut down before I get my 2,000 words.") are all well and good, but come on. Who has the time/energy/resources to live up to Stephen King's standards?
So if you don't live up to that prescriptive method (or anyone else's list of things that "real writers" do) does that mean you're not a real writer? Or that you don't take your craft seriously?
No freaking way. You should always have goals, always set out for the top of the mountain. The good news is, you don't have to feel shitty when you have to stop before you get there. Because let's face it, it's gonna happen. And your writing life (career/identity/dream/whatever you call it) should be built to take it. How?
My friend Gabriela at DIY MFA* calls it "Honoring Your Reality." Also known as Elisabeth's Second Commandment: Don't compare your journey with someone else's.
The secret is recognizing what you need in order to be the most happy, healthy, productive person, and doing that. It doesn't matter that Stephen King writes 2,000 words a day. How many words a day can you write? Or maybe it's how many words a week? Whatever your number and time-span is, own it. Be proud of yourself for getting any words out at all. IMO, some words are better than no words. The actual number and time spent writing varies from moment to moment.
Honor Your Reality
For me, the more I allow myself to do what I need to do, the easier I find to make time for the things that really matter to me. And right now, writing is one of them. But sometimes it's making sure I'm well rested. And sometimes it's going out with my friends and having a new experience. Because those things, even if they take away from my writing for a day, will make me a better writer in the long run.
Who writes well when they're exhausted? And who writes creatively and with nuance when they've been shut away from the world for too long (well, besides Emily Dickinson)? But see? Even she honored her reality. She could have said, "I'll never be a real writer because I haven't seen enough of the world." And we all would have missed out on the beautiful brilliance of her voice and her perspective.
And sometimes there are even heavier issues than just being worn out or needing to get out for a while. Sometimes life throws you a real curve ball… When that happens you have to give yourself the space and grace to do what you can when you can. The alternative is living with pain and guilt and shame. And, having been down that road before, I'd advise against it.
So you, yeah you. What's your reality? What do you do when the going gets tough and you're struggling to find the time to write? Do you make yourself feel terrible for it? Because you should stop that right now. Figure out what you need to be the person you want to be. And then go do it! That's what "real writers" do. We write. And we also live.
(Hey! Did you know that Gabriela Pereira of DIY MFA has a book coming out this summer? Check it out and order your copy here!)
Want to know more about how to up your writing game? Sign up for the Writing Refinery email newsletter. You'll also receive a free Character Detail Sheet that can help you learn everything you need to know about the main character in your current WIP!